Confession time: I have a bit of a Twitter problem. I follow over 1200 different accounts, and probably add another each day. I am not enough of a photographer, or even enough of a visually oriented person, for Instagram. Facebook increasingly annoys me with its endless ads and its "pivot to video." (WHY.) Twitter is where I'm going to spend (or waste, depending on your point of view) most of my screwing-around-online time.
Sometimes I just let the Twitter timeline wash over me in one big stream, and enjoy the crazy, constantly updated mix of content. But because I follow a lot of accounts, I also make use of lists. I've got a list for "breaking news," a list for Chicago-centric stuff, a "literary" list, with my favorite writers and magazines, and lists for hockey and football. (Go Hawks/Bears!)
(And of course: Make sure you follow the AMA Manual of Style! Follow @AMAManual! Or forever drift, rudderless, through a sea of regret!)
I also follow several novelty accounts, just for the laughs, like the one that tells you every Wednesday that it is Wednesday. With a Budgett's frog.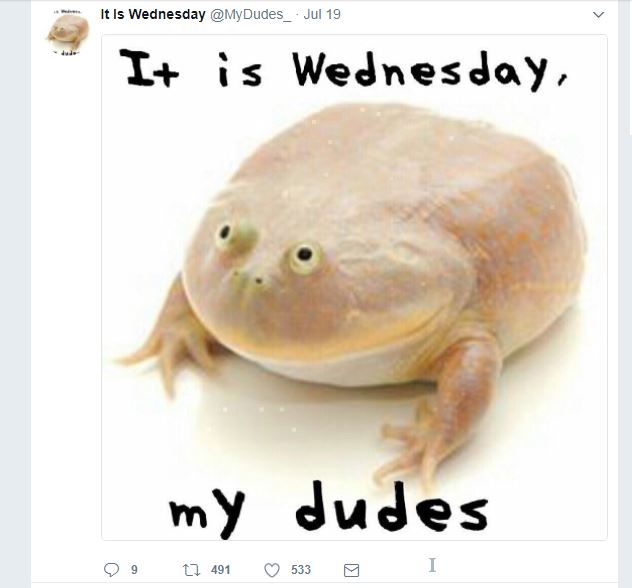 Okay, that's silly (albeit awesome). However, it occurred to me that a few of those novelty accounts are (vaguely) (very vaguely) editing-related. For instance, I follow That's Not A Word (@nixicon), where a dedicated linguistics scholar laboriously retweets instances of people on Twitter claiming something is not a word.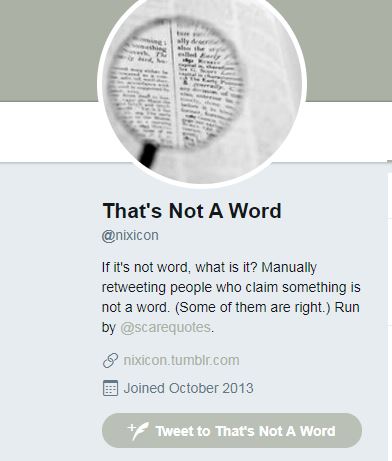 (For an entertaining, conducted-over-Twitter argument about something not being a word, see the Language Log's summary of the dust-up between linguist Ben Zimmer (@bgzimmer) and The Atlantic about whether "gift" can be a verb. (Spoiler: of course it can.)
And finally, just for the delicious irony: it's always nice to see @whostheidiotnow pop up in my feed, an account that collects and retweets people who say "your [sic] an idiot" to other people on Twitter. Warning: there are a LOT of idiots out there. Apparently.—Brenda Gregoline, ELS